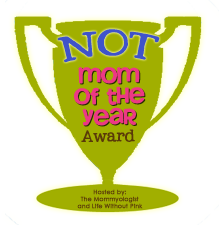 Blissfully Painful



First off, a big thanks to The Mommyologist and Life without Pink for hosting ' Not Mom of the Year Award'.
When they announced this contest, I originally had a million ideas swirling through my head, funny jokes that I could make about why I am not Mom of the year. It was all supposed to be just for fun. I was going to laugh about how my daughter is lucky if I even put a diaper on her, let alone clothes. I had plans to joke about the fact that she is almost 1 and still sleeps with me for half the night because I enjoy cuddling with her and it's unfortunately become a routine on both ends that we can't seem to break. There was going to be a funny tidbit in there about the time(s) she ate dog food or how about the fact the she has already ate fast food, ice cream, and loves watching Sesame Street. It was all supposed to be just a fun joke but then.... Olivia started getting her eye teeth in.
As I sit here cuddling next to my poor teething baby, I am starting to think that it's no longer a joke. I honestly deserve the 'Not Mom of the Year Award'. Any good Mom would not walk away from their screaming, teething child, but me, I did. I walked away because I did not know what else to do. I had exhausted all other options, and if I had not walked away from my screaming, teething child, I would have sat right down on the floor with her and cried and screamed too.
She has been so clingy the last few days that as I went to go throw some garbage away, I turned around and knocked her right in the head with my knee, sending her into even more of crying, screaming fit. I feel absolutely horrible for not watching more carefully, I feel like a big pile of steaming poop for my attitude the last few days. I mean, I should be used to it by now. Since January she has been getting teeth in one right after the other, but none have caused her to act quite like this. This is not my daughter, she must be someone else's cranky, screaming, crying, whining, clingy, picky child- because no child of mine acts like that. BWAHAHAHA!!!
I got a swift kick in the butt from Little Ms. Reality because Olivia is my child and she is acting like that. I am at the end of my rope, what kind of mom holds her breath as her heart sinks when she hears her child wake up from nap time, and whispers a little prayer to the Nap Gods for just a few more minutes of silence. That is not a very good Mom quality in my opinion and yet I fit the bill to a T. I can only hope that tomorrow will be better and that we can get through today with a little more silence, a little less pain, a few more smile and hopefully a bath (lord knows that she needs one, it has been about 3 days).
At the end of the day, I might feel like a crappy mom, but I would endure a lifetime of this all for just a smile and a cuddle from my daughter as she nuzzles into me and looks up at me with those eyes, you know, the one's that tell you that you are her world. I would not change a thing if I could (well, actually I would have not knocked her down if I could go back in time) because I love being Olivia's mommy and I cannot imagine life without her.