First things first- head over to
The simpler life

where Jan is graciously and awesomely hosting TWILIGHT THURSDAYS (yes i used caps because I am excited). You have to go check out her cute blog and link up if you are a twilight fan!!!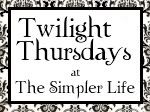 Team Edward, Team Jacob, or Team Switzerland (you just can't pick one)?
Team Edward 110% - always have been and always will be
Besides Edward, who is your favorite Cullen?
Carlisle- he is so smart, genuine, and gentle
Have you seen the movies, and if so, did you like them/think they did the books justice, etc?
eh, I like the actors for the most part and they are okay but they just don't beat the books and my imagination- I am curious as to how the last book is going to turn out in film, it is my favorite but there is just so much I don't think they are going to get
How did you find out about Twilight and what made you decide to read the books?
My sister told me about them (she is 4 yrs younger than I) but she has good taste in books!
What was your favorite part of the series?
vampire baby
What, if anything, did you dislike about the series?
Bella's stupidity
Who was the most interesting villain?
Jane
If you could choose one character to know more about, who would it be and why?
the baby (yea i know, i am a total mom)
Tell me about your most embarrassing "Twilight" moment…cause we all have one!
I don't think I really have one other than the constant teasing my husband gives me for rereading twilight ALL the time!
Now, I really thought this was funny so I just have to tell you. I went and got my toenails done the other day and was gone for a whopping 2 hours. the hubba wubba stayed home with Olivia. While I was gone, I realized that I forgot my cell phone, when I got home I had a text message from the hubba wubba that said: "I called the government and put Olivia on the no fly list- she is a little terrorist."
I about peed my pants I was laughing so hard when I read that! I can't even imagine what he would do if he had to stay home alone with her ALL DAY!