This beautiful stuffed fish comes from a fabulous tutorial from Lindsey over at The Cottage Home
My 1 yr old daughter is obsessed with fish at the moment and she walks around all day long saying ffffff sh, while she points up at the wall at the beautiful painting of the fish and also my husbands fish mount of a walleye he caught in Canada several yrs ago. Obsessed is an understatement of how much my darling loves fish, so this will be the perfect Christmas gift for her.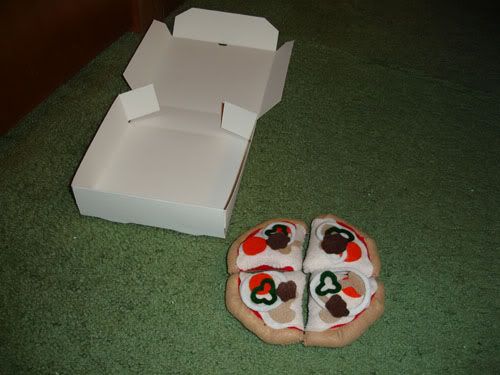 Felt Food, the above picture is a felt pizza with removable toppings so the kids can get really creative. I found this at
craftster
.org
I also came across the fabulous blog
Keeper of the Cheerios
who has been so kind as to compile a list of the most fabulous felt food patterns that she has found. My daughter is going to love playing kitchen with all of this come Christmas time.
This is an adorable Tea party felt food set, you can find the pattern among many others available for sale at
Gulf Coast Cottage
etsy's shop.
Okay, so now I have to find some gifts to make for someone other than my daughter.
I have this
lovely bag
(from Martha Stewart of course) in mind for one of my very best friends ever. She owns so many bags, but I don't think one of them are this darling, and to go with it is a fabulous computer cover from a pattern I have been saving for her personally.
I must find someone to make these luxurious
pillows
for!
All right, for the hubba wubba- (clears throat) and for me ; )
Amy Butler's
beautiful quilt that I shall make for our room. Our room needs a drastic makeover and I think this is just the thing. I love the design and the name says it all Sexy Hexy. Even better, this is a free downloaded pattern!!!
This is going to be a gift for one of the mother in laws that I have
Thanks Jessica for sharing
this
very detailed tutorial.