I have spent the majority of my weekend crafting away. I made several flower clips for my beautiful daughter to put in her hair, and I made a project for my 1st guest post ever on the fantabulous blog by my blogger friend Heather over at
Straight Stitches
. I am not sure what day it will be posted this week, so I would love it if you could pop on over there sometime this week to see it. You can find a little sneak peak right
here
of what I made. I also bought supplies to make my first ever quilt- I am doing a
quilt along
this month with one of my favorite blogs-
Fat Quarterly
, and I bought supplies for a few Halloween/ fall themed projects for this month.
Are sick of all my links yet???
Let me show you the clips I made for my daughter and then we will get on with business...
Excuse my messy floor, I was too busy crafting. (that was not a joke)
anyhow, when I get my camera up and running, I will take much better quality pics and put up a tutorial on my take of the flower hair bow.
Now on with the games,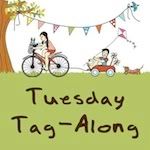 I am linking up with Tuesday Tag Along today!
Come join me in the partayy!!